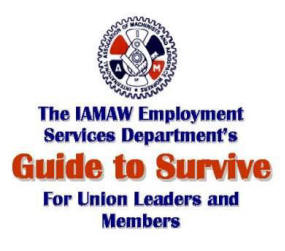 Click here to download survival guide
William W. Winpisinger Education & Technology Center As we enter the new century, the only way to keep up with change is with education. The William W. Winpisinger Education and Technology Center is the IAM's most visible sign of our commitment to provide a world class educational facility to train future IAM leaders.
The Winpisinger Center teaches what it is to be a trade unionist. By studying labor history and the role unions play in our society, students learn that unions are more than service organizations. We are part of a larger movement toward economic and social justice with dignity on the job.
Weingarten Rights  Any employee has the right to Union representation when management questions an employee to obtain information and the employee has a reasonable belief that discipline or other adverse consequence may result from what he or she says. Your Union strongly suggests that you exercise this right.
The National Labor College   the only college in the United States dedicated exclusively to the education needs of union members, leaders and their families — has made it even easier and more affordable for hard-working adults with family commitments to complete their college degrees.
IAM National Pension Fund As an I.A.M. member, you know that strength lies in numbers. The same holds true for the National Pension Plan. Our strength lies in these numbers:
• Over 1,700 contributing employers
• Over 68,000 retirees and beneficiaries
• 75,000 participating members
• $7 billion in net assets
Our numbers are strong and they keep growing stronger . . . growing to give you a more secure financial future, both tomorrow and well into the 21st Century.
National IAM Benefit Trust Fund The National I.A.M. Benefit Trust Fund is a Non-Profit Health and Welfare Fund, offering Comprehensive Healthcare Plans, nationwide.
Proudly serving the I.A.M. Membership for over a quarter century, we have earned a reputation for Responsive, Personalized service.
Contact your IAM Representative, or the Fund Office to find out what the Benefit Trust Fund can offer you!
Retirees, Community and Membership Services Department of the IAM
Minnesota Unemployment Insurance – Up-to-date information on Minnesota's unemployment insurance.
Minnesota Workers' Compensation – Up-to-date information on Unemployment Compensation for Minnesota workers is available on this site, which also includes links to other job-related sites.
MN OSHA – "Labor and Industry is committed to ensuring equitable, healthy and safe work and living environments in Minnesota. Through outreach, education and compliance efforts, we strive to improve the quality of life for Minnesota workers and their families.
"Our goals are geared toward reducing and minimizing the impact of workplace injuries and illnesses; helping resolve workplace complaints and disputes; ensuring compliance and awareness about workplace requirements; and assuring quality construction, operation and maintenance of structures. We hope to continually build safer and healthier work environments in Minnesota."
Paywatch – The National AFL-CIO's new website on CEO pay.  Shows how CEO pay is skyrocketing; details what the top executives make–and how long it would take you to make that much. Also indicates what you can do about this scandal and how to "talk back."
AFL-CIO Union Plus  Money-saving benefits for union members & their families
Pension Benefit Guaranty   The Pension Benefit Guaranty Corp. is using a new Internet site to help workers locate pension money owed to them.  The PBGC lists 9,887 workers who are owed more than $19 million in benefits and about 1,400 companies.  The site can be searched by name, company or state.
U.S. Dept. of Labor's Bureau of Labor Statistics  Despite cutbacks in their budget for a number of years, this is still the best source for just about any sort of economic data you're looking for.
NIOSH  National Institute for Occupational Safety and Health Home Page.  This site gives information on the agency, publications, health hazard evaluations and databases.  This site has extensive safety and health weblinks.
OSHA  Occupational Safety and Health Administration Home Page. This site provides information on the agency, technical support, publications and standards.  In addition, the site has extensive safety and health weblinks.
Census Bureau  This site contains all sorts of data down to the state and county level.