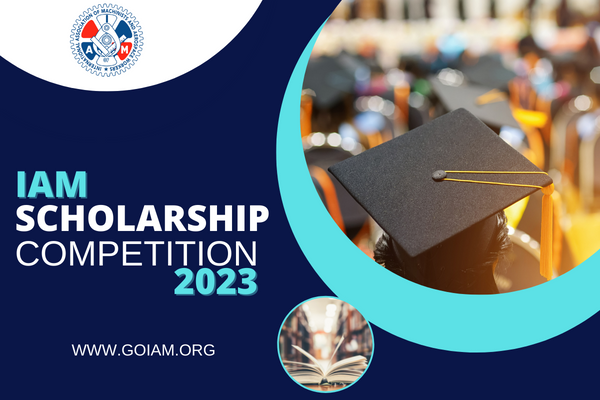 The IAM Scholarship Competition is accepting applications for the 2023 year. The competition is open to members of the IAM and their children throughout the United States and Canada.
Again, this year's Scholarship Program will be fully accessible on goiam.org.
Additionally, the IAM has a vocational-technical two-year scholarship available to members and their children.
Please note that the application must be postmarked on or before February 10, 2023, if mailing in the applications.
In 2021-2022, the IAM awarded 16 scholarships valued at $64,000. The winners were selected out of over 300 applicants.
The IAM Scholarship Fund, which is used exclusively to make these awards possible, was established by the delegates of the 1960 IAM Grand Lodge Convention.
For more information, including applications and rules, you can find them on the 2023 IAM Scholarship Competition page here.
If you would like to receive a scholarship packet by mail or have any questions regarding the program, please call our Scholarship Department at 301-967-4708.
Registration for the Spring 2023 term opened on October 25, 2022, for continuing students and shortly thereafter for new students.
Students can schedule advising appointments on the Eastern Gateway Community College website.
Read the latest on Free College from EGCC.
I am currently enrolled, who do I contact with questions?
If you are currently enrolled in the Free College Program at Eastern Gateway Community College, please contact them directly by email or phone:
Email Eastern Gateway Community College by email at onlineteam@egcc.edu.
Phone numbers for Eastern Gateway Community College
Admissions counselors: 1-833-465-2505
The financial aid help desk at 1-833-465-2505, select option 2.
Additional information can also be found in EGCC's recent press release.
Who do I contact with questions regarding my eligibility or enrollment status?
If you have questions regarding your eligibility or enrollment status for Eastern Gateway Community College, please call 1-833-465-2505 or email onlineteam@egcc.edu.