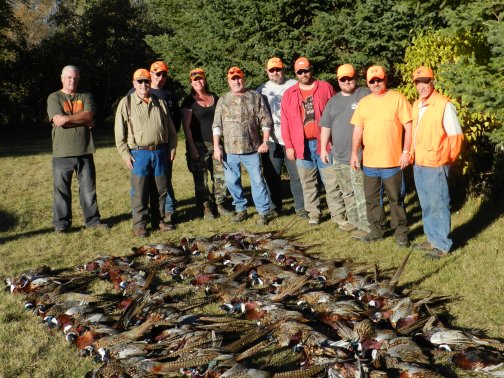 (To view photos from last years event Click Here)
The 2nd Annual Flatlanders' Pheasant and Trapshoot to benefit Guide Dogs of America will be held on Saturday, October 24 and Sunday, October 25, 2015.
The cost to participate in the hunt is $250/day per hunter. A field lunch will be included with your paid registration fee. Guide service will be provided by Kendal Stoddard of High Trial Connection. To support Guide of America, each participant will be asked to make a $25 donation; and in addition, contribute $25 cash toward a gratuity for the hunt.
The Trapshoot will take place the evening of October 24th at 6:00 p.m. at the Aberdeen Gun Club. The cost to participate is $50/person and will include two rounds for a total of 50 shots. Dinner is included in the price.
Participant check-in for the hunt will be held on Friday, October 23, 2015 from 4:30 p.m. – 5:30 p.m. at the My Place Hotel, 410 Harvard Street South, Aberdeen, SD 57401. At this time, each participant will we asked to complete a Waiver Form for the hunt.
A limited number of hotel rooms have been blocked at the My Place Hotel at a room rate of $98/night + tax. Please call the hotel at 605-262-4600 and confirm your room no later than September 23, 2015. Be sure to mention "Guide Dogs of America" when booking your room.
There will be a welcome reception sponsored by the Brown Law Firm PC on Friday, October 23rd at 6:30 p.m. hosted by Jeff & Jody Brown at 382079 North Shore Drive in Aberdeen.